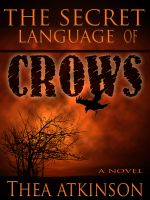 I knew there had to be good, independently published, literary fiction somewhere out there in cyberspace. I found it in Thea Atkinson!
The novel opens in Faulknerian style with a dying father, murder of crows, the taking of a sadistic lover, the main character's return home, and the lover then lying dead on the compost heap – all eerie foreshadowing of the changes facing Olivia Cunningham.
Olivia has grown up in an abusive family. After leaving home it is natural that she finds "the one lesbian in a  50-mile radius that would lay a cruel hand on any woman" and takes her for a lover. Not only natural , but necessary, for having left her abusive home, Olivia must now find someone else to punish her perceived failures. But even as her lover raises a fist to her, Olivia instinctively knows the abuse is wrong. As she responds to her lover's violence in a seemingly fatal act, Olivia actually makes the first move to reclaiming her life.
Drawing out the violence of Olivia's story, like her lover and father tenderly draw out their beatings, Atkinson immediately and effortlessly hies the reader into a dark corner where we can sympathize not only with Olivia, but with the characters around her. Worse, we come to understand them, and get squirmy at being so deeply under their skins.
Atkinson snares her character's frailties, and holds them in her hands like panting, small-boned birds. Much of the novel's tension comes from waiting to see if she will relinquish her characters or crush them, and though her hold is fierce, Atkinson proves merciful. With sharp plotting, skilled use of metaphor, and touches of humor that offer cracks of light in a very dark read, Atkinson produces a powerful novel of courage and compassion. Through a brutal grace, Olivia and her family discover strength in forgiveness; not only for those who have wronged them, but for the wrongs they have done to themselves.
I wish all the star rating systems,  Amazon, Goodreads, etc.,  included half stars. If they did, Secret Langauge of Crows would get 4 1/2 instead of four. Two things kept it from five; I noticed during Olivia's hospital stay that my attention kept drifitng to what I was going to read next, and toward the end of the book there were a lot of distracting formatting and copy editing mistakes. All in all, this is highly recommended to those who  like their literature dark and deep. Ms. Atkinson proves there is indeed quality literature in the brave new world of independent publishing. http://theaatkinson.wordpress.com/
(P.S. – Love the cover!!)